odisha: Three killed as Gulab batters Andhra; spares Odisha | India News
VISAKHAPATNAM/ BHUBANESHWAR: Three people were reportedly killed in Andhra Pradesh as cyclone
Gulab
barrelled through the state after making landfall late on Sunday near Kalingapatnam, leaving in its wake a trail of destruction across the two worst-hit districts of
Srikakulam
and Vizianagaram.
Odisha
was spared the worst of the cyclone, barring a tapering storm that caused subsidence in parts of the state along with power supply and telecom disruptions.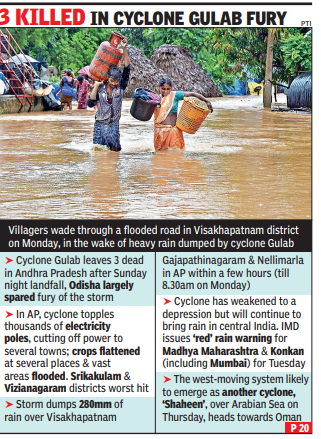 In AP, the damage was widespread, with the fury of the cyclone throwing power supply and communication networks haywire and flattening crops spread across thousands of acres.
A 37-year-old woman identified as D Bhavani was killed in Vizag when the wall of her house collapsed during the cyclone. In West Godavari, a road transport corporation employee, P Nageswara Rao, was swept away in a flash flood caused by heavy rain. The third cyclone casualty was reported in Srikakulam district.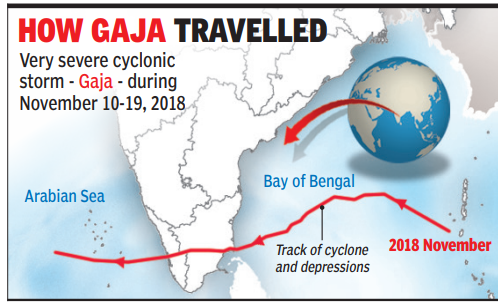 AP CM YS Jagan Mohan Reddy announced an ex gratia of 5 lakh to the kin of those killed, and 1,000 each to families shifted to relief camps. Roads leading to several villages were cut off, while entire towns were plunged into darkness as the storm toppled hundreds of electric poles. Officials said restoration of power supply would take some time. The telecom network was also affected due to damage. The CM directed officials to restore power as soon as possible and monitor the situation every 30 minutes
Jagan also asked the administration to prepare a report on crop damage and provide immediate relief to farmers.
In Odisha, the Naveen Patnaik government had evacuated over 46,075 people, including 1,533 pregnant women, to safer places before the cyclone hit.
What's your reaction?
0
Smile
0
Angry
0
LOL
0
Sad