IIT-G to launch commercial drone flying school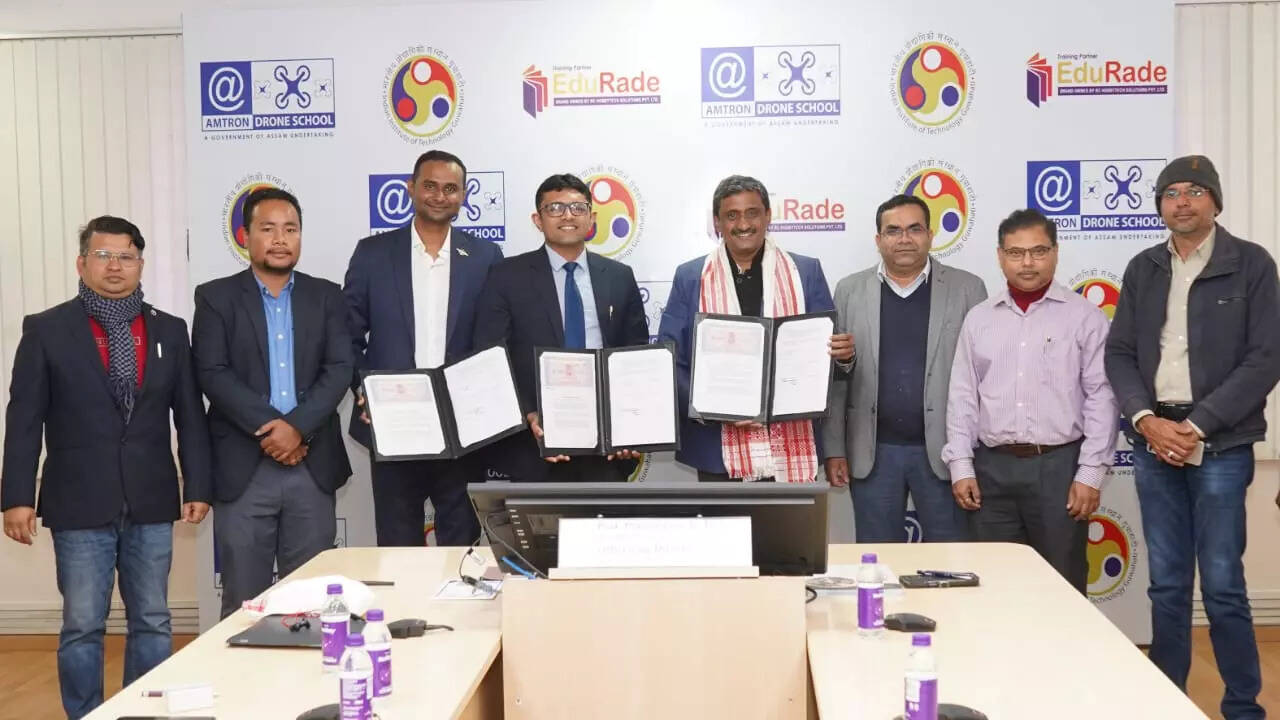 Guwahati: The
Indian Institute of Technology Guwahati
(IIT-G) inked a memorandum of understanding with the state government-run Assam Electronics Development Corporation Ltd (AMTRON) and RC Hobbytech Solutions Pvt. Ltd. (RCH) to start a commercial drone flying school on its campus. With professional courses to equip students of the northeast with the latest drone technologies, the collaborative effort will also give shape to a disaster management system to serve the state and the region.
The scope of the operations under the collaboration also includes the establishment of the drone flying school which will offer commercial drone flying fresher courses and other related advisory and consultancy services like renewing drone flying licenses, securing commercial drone permits and equipping students for drone flying tests. An IIT-G spokesperson said the proposed school will also connect the students with organizations that need professional drone flyers.
"Professional courses in the field of drones that will offer a wide range of services such as drone based survey and mapping; Geographic Information Systems courses; coding and AI related courses and other courses will be a part of this objective. The classes for these courses will take place at
IIT Guwahati
campus," read a statement issued by IIT-G on Thursday.
The MoU signed on January 18 includes expanding drone-based training, research and development, manufacturing for varied sectors, including agriculture, disaster management, wildlife conservation and health care. The MoU was signed between Parameswar K. Iyer, officiating director of IIT-G, S Sundar, managing director of AMTRON, and Biswajit Dey, co-founder of RC Hobbytech Solutions Pvt Ltd.
"The members of IIT Guwahati Drone Centre and Technology Incubation Hub will be integral parts in this endeavor for the greater good of the region," said Iyer.
IIT-G, in collaboration with industry partners, will work on developing a few prototype drones with an aim of getting it certified by the Quality Council of India (QCI). These will be used in activities including agriculture, spraying, seeding and crop health monitoring, and vertical take-off and landing fixed wing drone for payload delivery, mapping and surveillance. The IIT-G will provide all the necessary machinery, software, related hardware and other utilities for the same.
A disaster response management system will be developed to address the needs in case of any disaster in Assam. To execute the task, a team of students and professionals will be deployed along with ready to fly surveillance and payload delivery drones for emergency response.
"IIT Guwahati will develop drones to cater to the needs of the state to contain disasters, AMTRON will provide communication support and RCH will provide necessary technical expertise in developing the drones and associated systems," read the statement.
Further, a disaster response cell will also be established at IIT-G, to be operated by the drone helpline student volunteer team of the institute and AMTRON Drone Team.
What's your reaction?
0
Smile
0
Angry
0
LOL
0
Sad