Gyan Setu: Special discussion on current geo-political situation at PU
CHANDIGARH
: Gyan Setu Think Tank in collaboration with the Department of Defence and National Security Studies, Panjab University, Chandigarh organized a special lecture by Maj Gen. B. K. Sharma (retd) on the theme "Geopolitics of Eurasia; Strategic Implications". The event was held at CIL/SAIF Seminar Hall, Panjab University. Maj. Gen. B. K. Sharma is Director of United Service Institution of India (USI), India's oldest think tank. He specializes in Strategic Net Assessment methodology, Scenario building and Strategic Gaming. Other dignitaries present at the lecture were Lt. Gen. Harwant Singh Bawa, Lt. Gen. K. J. Singh, Dr Jaskaran Singh Waraich, Chairperson, Department of Defence and National Security Studies, Panjab University, Prof. Simrit Kahlon, Director, ISSER, Panjab University, Chandigarh.
Gen. B. K. in his address discussed the significance of Eurasia in perspective of Geography, Geo-Political imperative as well as the Defence and Security imperative in current context. He discussed the historical perspective of the region and explained how the geo-political theories about the region – Mackinder's Heartland Theory and Spykman's Rimland theory still hold relevance. He also highlighted the significance of the region for India. Almost all the invasion of India throughout the history came from this region. He further elaborated the current significance of the region for its vast energy and other natural resources as well as being the major energy route for the world.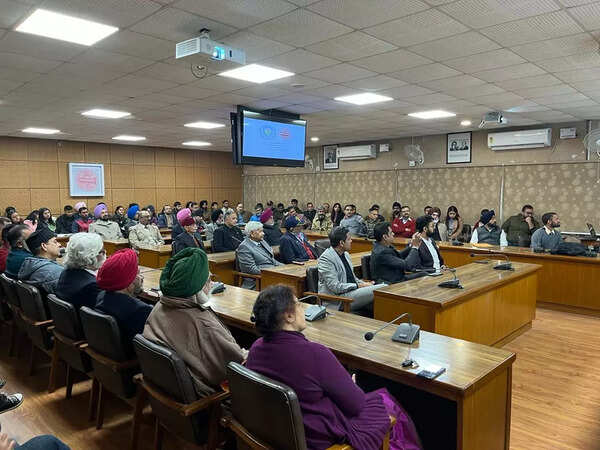 He briefly discussed the past and present conflicts in the region and how they affect the security dynamics of Europe, Asia, India and world at large. Gen. Sharma, highlighted the current Russia-Ukraine conflict and discussed its strategic implications for the stakeholders and the rest of the world. He also touched upon the growing influence of China in the region through its BRI projects. In the end he enunciated several lessons which India can learn to strengthen its position in the international platform, from the current geo-political situation of the region.
The lecture was organized by Gyan Setu Think Tank under the "Hero Suraksha Samwad" lecture series. Hero Group has undertaken to provide support to Security Dialogue in 2023. Gyan Setu was established as a University Think Tank in June 2018 as Knowledge Bridge between a large reservoir of Veterans in Tricity and Faculty and Students. It was a bold step to take strategic dialogue beyond Lutyens Delhi and Raisina Hill and bring it to the City Beautiful. It is also in keeping with the global trend of University based Think tanks.
On the occasion, the website of Gyan Setu Think Tank was inaugurated by Lt. Gen. Harwant Singh Bawa.
What's your reaction?
0
Smile
0
Angry
0
LOL
0
Sad