Calgary-based tech company Benevity announces mass layoffs
Wednesday saw layoffs of 137 staff members, representing 14 per cent of the company's workforce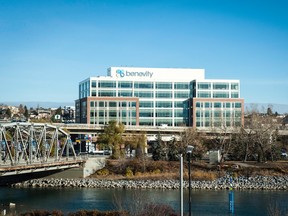 Article content
Calgary-based tech firm Benevity announced Wednesday it's immediately laying off 137 staff members, pointing to recent company growth outpacing a slowing demand for its services.
Article content
In a written statement posted to Benevity's website, CEO Kelly Schmitt called it one of the toughest days in the company's history. She said the employees — who represent 14 per cent of the company's workforce — will be laid off Wednesday.
Article content
Schmitt said economic conditions have changed drastically in the last nine months, and while the company has seen healthy year-over-year growth, it's "overbuilt" for current market conditions. 
Article content
"I am truly sorry that we've come to this point, and I take full responsibility for the decisions that led us here," said Schmitt. 
Company achieved 'unicorn' status in 2020 after exceeding $1-billion valuation
One of Calgary's largest-ever tech startups, Benevity offers corporate social responsibility software, giving companies and non-profits access to a range of employee engagement, workplace giving, and grant management products and programs.
Article content
"Taking the steps now to become a more profitable business will make us a stronger company over the long term, and better position us to fulfill our mission and support our clients and nonprofits to have a positive impact on the world," said Schmitt. 
The company plans to support those who lost their jobs with "generous severance, consideration for bonus, extension of health benefits, career transition support and ownership of company laptops," Schmitt said.
Article content
Schmitt said the company will "take a different approach" with its client-facing employees, phasing changes over the next two months. It also plans to expand investments in automation, product capabilities and efficiencies.
Article content
Postmedia reported in September 2022, that the company more than doubled in size over the course of the COVID-19 pandemic, hiring more than 500 people to reach upwards of 1,000 employees by June 2022.
At the time, more than half of its workforce was Calgary-based, working out of the company's Bridgeland headquarters, but a large portion of Benevity's employees worked out of country or overseas. Roughly 350 employees from 10 countries, including the United States, France, Spain and Australia, journeyed to Calgary in September for a "homecoming" event.
Benevity achieved so-called "unicorn" status — a rare, informal designation given to tech startups that exceed a valuation of $1 billion — in 2020, when British-based Hg Capital LLP purchased a majority stake in the privately held company for $1.1 billion. 
Twitter: @michaelrdrguez
What's your reaction?
0
Smile
0
Angry
0
LOL
0
Sad