NEET UG 2023: In the quaint village of Nangal Tulsidas, there is only one sub centre with ANM bed, which means, the people present there are basic diploma holders and are not certified for treatment. The community health centre is in another village which is 2.5 km from Nangal Tulsidas. The nearest private hospital is 18 km away and for other medical needs, villagers have to travel 25 km to Jaipur.
With two girls of the village clearing NEET (National Eligibility cum Entrance Test) UG, the medical entrance exam with flying colours, the village now has a ray of hope that better days will finally dawn upon them. Ritu and Kareena Yadav, daughters of two shepherds, have cleared the exam on their second and fourth attempts, respectively. Ritu secured 645 marks obtaining All India Rank (AIR) 8179 and category rank 3027, while Kareena scored 680 marks and bagged AIR 1621 and category rank 432.
Talking about the healthcare facilities in their village, Kareena Yadav said, "There should be proper healthcare facilities in every village and I wish to bring that change in my village."
Ritu and Kareena are cousins and their fathers, Hanuman Sahay Yadav and Nanchuram Yadav earn a living by rearing goats. Both families live separately. Ritu's father, Hanuman Sahay studied till Class 10 and their mother Sushila has completed Class 8. While Kareena's parents Nanchuram and Geeta are illiterate. Neither of them has a pukka house.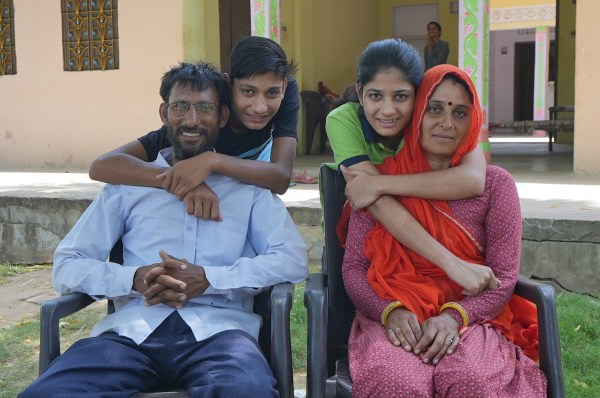 Ritu Yadav with her father, Hanuman Sahay, mother Sushila and brother Aditya (Image credit: Allen Career Institute)
The problems for Ritu and Kareena's families don't just end there. In 2002, Ritu's father, Hanuman Sahay noticed that there was some problem in one of his eyes, it was diagnosed that the muscles of his eye became weak. He underwent a laser operation but even that could save only 30 per cent visibility. In 2011, the other eye also developed some problems. He again underwent an operation but this time his eyesight couldn't be saved.
After losing his eyesight, Hanuman Sahay lost his job and had to resort to grazing goats. On the other hand, Kareena's father Nanchuram had lung cancer and is currently undergoing radiotherapy.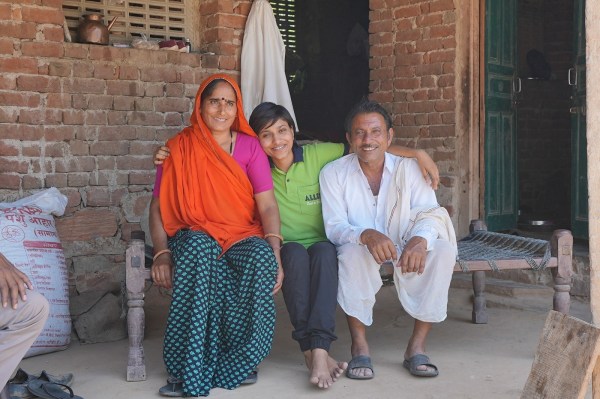 Kareena with father Nanchuram and mother Geeta (Image credit: Allen Career Institute)
It was their uncle, Thakarsi Yadav (eldest of the three brothers) who realised their potential and suggested that they should join coaching for preparation and guidance. Thakarsi Yadav is a Science graduate and grade III (3) teacher in Rajasthan government schools.  Talking about the girls, their uncle said, "when I was young, I appeared for Rajasthan PMT but couldn't clear it, falling short of few marks. But, now when I look at Ritu and Kareena, I feel they would fulfil my dream and not only become very good doctors but also change the landscape of the village."
He noticed that Ritu and Kareena are good at studies and have the potential to become doctors. Therefore, he suggested they should join a coaching institute for the same. They went to Allen Career Institute for admission and the institute waived a percentage of their fees under its CSR (corporate social responsibility) initiative.
"The full syllabus fee is over Rs 1 lakh and even after the waive-off, it wasn't something we could have afforded. Therefore, we decided to enrol Ritu and Kareena in a different course where only the main topics were covered. For this course, Ritu's fee was Rs 40,000 and Kareena's fee was Rs 25,000," said Thakarsi Yadav. Since it was difficult for the girls' fathers to pay the fees, their uncle paid it for them.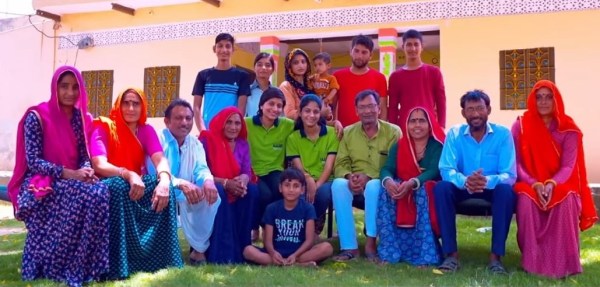 Ritu and Kareena with their whole family (Image credit: Allen Career Institute)
Both the girls have cleared NEET UG in previous years as well. Ritu cleared Class 12 in 2021 and appeared for NEET UG in 2022 for the first time. She secured 515 marks out of 720. Similarly, Kareena completed her Class 12 in 2019 and secured 440 marks in NEET UG 2020, 545 in NEET UG 2021, and 559 in NEET UG 2022.
Asked why didn't they take admission to medical colleges during the previous years despite scoring above the cut-off, Kareena said, "Our marks weren't enough to get us into government colleges and we didn't have the means to study at a private college."
This year, after the NEET UG 2023 results were declared, the girls and their families were ecstatic beyond measure. The girls wish to bring change in the education as well as the healthcare scenario of their village. Kareena's father, Nanchuram said, "I don't know anything about NEET but feels good when the people tell me that his daughter will become a doctor. I would like to thank all the people who are responsible for changing my life."
The girls and their families hope that their success will encourage more and more students to study hard, set goals for themselves and achieve them.