Brandix Group Chief People Officer Sahad Mukthar shares insights to future developments and its people
Enhancing efficiency and employee welfare are at the core for a sustainable recovery of the apparel sector according to leading exporter Brandix. In this interview Brandix Group Chief People's Officer Sahad Mukthar shares more insights to future developments and its people.
Q: Sri Lanka's economic crisis was particularly hard on poorer segments. Global economic shocks post-COVID and geopolitics have impacted trade and exports. How has Brandix cared for its employees through difficult times?
A: Amidst global and local economic challenges, Brandix has remained steadfast in prioritising employee welfare. We have consistently paid full salaries to all employees and since April 2022 granted an Emergency Economic Relief Allowance to associates in our manufacturing plants, helping them cope with the hyper-inflationary environment. As a responsible employer, Brandix understands the importance of supporting our workforce during these tough times. Our commitment to employee well-being showcases the resilience and adaptability that allows us to overcome challenges and maintain a strong position in the industry. We are continuously assessing the situation and implementing strategic initiatives to ensure business continuity and safeguard our employees' livelihoods. By focusing on innovation, automation, cost competitiveness and operational efficiency, Brandix is well-positioned to thrive in the long-term and contribute positively to the economic recovery of Sri Lanka.
Q: What measures were mandated by the Government to companies to look after vulnerable groups?
A: There have been no mandated payments or relief schemes assigned by the Government or the Department of Labour. These payments are offered purely on a voluntary basis. The term "Emergency Economic Relief Allowance" was coined by Brandix during the Sri Lankan economic crisis in April 2022. At this time, several apparel companies voluntarily paid an allowance of varying amounts to factory workers to help them manage the rapid escalation in the cost of living. Brandix introduced the Emergency Economic Relief Allowance (EERA) during this time, and we continue to pay this allowance of to our factory employees. The EERA has been granted to Associates and Staff level employees at all our manufacturing plants in Sri Lanka. There are no exceptions, or any conditions attached to the payment, except with unauthorised leave.  
Q: There are reports that drops in orders has led to closures and resizing within the apparel industry. What is the impact on Brandix and how will it ensure staff welfare in this respect?
A: As the global apparel industry faces a decline in orders affecting countries such as Sri Lanka, Bangladesh, Vietnam and India, it is essential for companies like Brandix to adapt to these market changes. We anticipate a recovery in the market towards the end of the year and are implementing strategies to maintain a competitive edge.
Brandix is undergoing a comprehensive strategic transformation to enhance agility and cost competitiveness in response to shifts in consumer buying patterns and pricing. Given that cost and scale of operations are crucial factors for manufacturing in Sri Lanka compared to competitors, Brandix is flexing capacity by optimising and reallocating resources across the organisation. Employee welfare remains a top priority for Brandix, and we are committed to ensuring the well-being of our team during these transitions. 
Contrary to speculation, the situation has not prompted Brandix to relocate its entire operation overseas. As a proud Sri Lankan company known for its dynamic, high-quality production, Brandix will continue to export from Sri Lanka in addition to its facilities around the world, demonstrating our unwavering commitment to manufacturing excellence. 
The future of the apparel industry in Sri Lanka looks promising, with the Central Bank of Sri Lanka projecting industry earnings of $ 8 billion by 2025. Despite the current economic climate, opportunities for growth remain.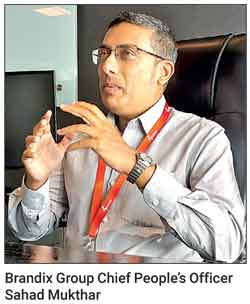 Q: Are the support measures you offer universal across the apparel industry, or is Brandix doing anything different? 
A: The apparel industry has collectively implemented support measures for employees during these challenging times, with the relief allowance being one notable example. While I cannot speak to the specifics of other companies' initiatives, Brandix is committed to taking additional strategic measures to ensure the well-being of our employees and the communities we serve.
Brandix's CSR initiatives revolve around three pillars: Provide, Educate, and Engage. Through the 'Provide' pillar, we strive to enhance the quality of life of our employees and communities enabling access to safe drinking water, clean sanitation facilities, better healthcare, and food security. Meanwhile, the 'Educate' pillar facilitates access to education through initiatives such as English language learning programs, University scholarships, and the donation of school essentials and enhanced training to cope with the current economic situation. Under 'Engage' Brandix continuously interacts with communities it serves to better understand their needs and provide purposeful interventions. This has enabled us to sustain our employees and their families during this difficult time. In 2022, we invested a significant amount in food security, education, and water sanitation, demonstrating our dedication to making a positive impact on our employees and the broader community.
Last year, some of our more notable initiatives have provided employees with clean water and sanitation facilities, food shortage relief measures, free grocery packs, access to essential goods and services at discounted rates, and enhanced medical benefits through on-site medical centres. We have also strengthened our comprehensive mental well-being program at each manufacturing facility to account for the rapidly changing environment and its impact on our employees' mental health. Our commitment to employees extends beyond the relief allowance. This month (April) all Brandix Associates and Staff received a full month's bonus, despite the industry's challenges. 
Q: Why are there many allegations against the company and industry if it is doing so much for staff like you say? 
A: It's true that there have been allegations against the industry regarding staff well-being, particularly at lower levels. The past two years have been incredibly challenging, with job and salary cuts becoming widespread not only in Sri Lanka but globally.
However, as previously mentioned, Brandix has made significant efforts to support its employees amidst the economic crisis. We have maintained full salary payments despite factories operating below capacity and have worked diligently to safeguard jobs in the face of global challenges. The company engages in monthly discussions with employee councils, addressing organisational and individual concerns with utmost priority.
The apparel industry as a whole, especially the larger players, has implemented robust systems to ensure worker safety and welfare, and we are consistently audited by our customers for compliance and performance to ensure we adhere to the best manufacturing standards.
The allegations levelled against Brandix with respect to employee welfare are unfounded. As mentioned before, employee welfare is central to Brandix and remains a constant focus.
Q: What steps have been taken to empower the women who work on the factory floor? The industry is based on their effort, have we done enough for them?
A: Our Group CEO emphasises that Brandix's success is built upon the hard work and dedication of the thousands of women from across the country who share our vision and values. We prioritise their welfare and happiness, and Brandix consistently goes the extra mile to ensure their health and safety.
We have a strong commitment to Equality, Diversity, and Inclusion (EDI) in our workplace. Our Abuse and Harassment Free Workplace policy is among the most stringent in the region, and we provide extensive support in various areas, including education, counselling, economic empowerment, and care for the differently-abled. We maintain continuous engagement with our employees at all levels to ensure their well-being, as our people are the driving force behind our pursuit of excellence.
We remain committed to finding new ways to support and uplift the lives of our employees, as their well-being is integral to our company's success.
Source link