Businesses should focus on increasing their profits instead of trying to appear socially or environmentally responsible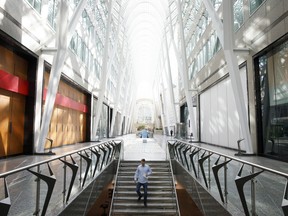 Article content
The analytical looseness characterizing discussions of corporate social responsibility, which Milton Friedman wrote about over 50 years ago, is ever more apparent. Last month, Bloomberg reported about "ESG fund chaos" over greenwashing concerns and widespread frustration among asset managers, as more than $125 billion in assets previously labelled environmentally responsible are now rated not to be, after all. It has been clear for some time that the "E" in ESG is hard to judge. Now a new paper jointly published by the University of Chicago's Booth School of Business and Stanford University's Rock Center for Corporate Governance suggests the "S" (standing for "social") is on similarly shaky ground.
Article content
Many of the stated social objectives of business have to do with diversity and inclusion, but just as businesses can engage in greenwashing to exaggerate their environmental friendliness, so too can they use "diversity washing" to embellish the social good they supposedly do. The five co-authors of the Chicago/Stanford paper define diversity washing as companies talking more about diversity in DEI (diversity, equity, and inclusion) commitment disclosures than the racial and gender profile of their work force merits. Their conclusion, based on data for nearly all publicly-traded U.S. firms? "Diversity-washing firms obtain superior scores from environmental, social, and governance (ESG) rating organizations and attract investment from institutional investors with an ESG focus. These outcomes occur even though diversity-washing firms are more likely (than other firms) to incur discrimination violations and pay larger fines for these actions."
Article content
Like the pervasiveness of greenwashing, high ESG scores for diversity-washers highlight the analytical looseness underlying corporate social responsibility. But an even more fundamental problem is why diversity should be linked to social responsibility in the first place. Employer diversity initiatives that reduce racial intolerance and other forms of unfair discrimination in the workplace are certainly beneficial, and in cases where these benefits – in terms of attracting and retaining workers and improving employee morale and productivity – exceed costs, they are profitable, too. But increasing racial and gender diversity is not per se beneficial, and a lack of diversity is not always evidence of discrimination or mismanagement.
Article content
The racial diversity of the wait staff in Chinese restaurants in the Toronto metropolitan area is approximately zero: just about everyone is of Chinese ethnicity. People of European and North American origin account for over 60 per cent of the population but approximately zero per cent of wait staff in such restaurants. People of East Indian (11 per cent), Caribbean (6 per cent), and African (5 per cent) origin are similarly underrepresented. Yet this complete absence of racial diversity is not evidence of Chinese restaurant owners' corporate social irresponsibility or bad management, but simply reflects the facts that Chinese workers on average have better knowledge of the language, cuisine and culture, and are likelier to want to supply their labour to Chinese restaurants. If the restaurant owners tried for higher ESG scores by forcing the ethnic make-up of their staff to mirror the general population, this would be bad business management and, perversely, almost certainly require them to engage in unfair racial discrimination in hiring.
Article content
One of the main criticisms of corporate social responsibility is that diluting corporate purpose with collateral social or environmental objectives provides corporate managers with a ready excuse for poor financial performance and therefore makes it harder to keep them honest: "Yes, we missed our profit targets," they might say, "but look at the diversity of our employee population and supply chains!" As the authors of the Chicago/Stanford paper point out, diversity washing could be particularly appealing for low-performing firms looking to attract investment from funds that emphasize social responsibility and are more accepting of subpar financial performance.
Article content
Milton Friedman, who preached that the social responsibility of business is to increase its profits, was in fact a great advocate of diversity. But he thought diversity should be spontaneous and bottom-up, deriving from people's freedom to follow their own values, choose their own preferences and make their own choices. This is not the same as diversity that is artificially manufactured, enforced from the top down or stressed in virtue-signalling corporate communications but not actually practiced.
In fact, businesses are most likely to pursue diversity and inclusion if they follow Friedman's model. Unfairly discriminating against workers or customers based on irrelevant criteria such as race or gender is costly to the companies doing the discriminating. If businesses focus on increasing their profits instead of trying to appear socially or environmentally responsible, it would be a win all around. There would be less greenwashing, less diversity washing, less investment fund chaos, more real diversity, greater accountability for corporate managers, and — never to be discounted — higher business profits.
Matthew Lau is a Toronto writer.
Source link