By Kao Shih-ching / Staff reporter
In a post-COVID-19 world, the public better understands the importance of the global healthcare industry, Novartis Taiwan president Frances Milnes said in an interview with the Taipei Times.
Novartis aims to reimagine medicine to improve and extend people's lives, Milnes said, adding that the company uses scientific innovation to address some of the most challenging healthcare issues, and it is passionate about "the impact we have on patients and societies."
Novartis signed the Patient-Friendly Workplace Declaration, which was launched by the Taiwan Young Patient Association (TYPA) to raise awareness of workers' health by providing health examinations for employees, as well as providing career support and fair opportunities for patients.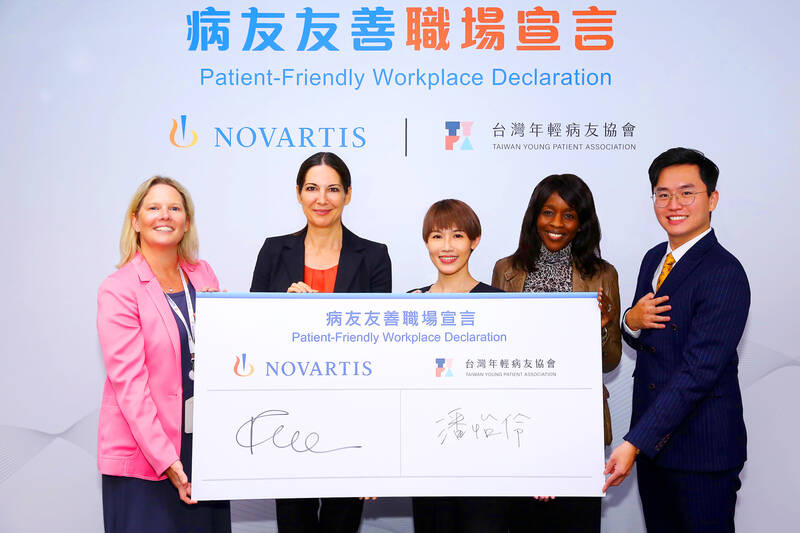 Photo courtesy of Novartis Taiwan
"Novartis has four commitments to patients and caretakers, namely, respecting and understanding the patient community perspective, expanding access to medicines, conducting responsible clinical trials, and recognizing the importance of transparency and reporting. By signing this declaration, we are turning our words into action," Milnes said.
Despite increased awareness surrounding workplace equality, many companies still discriminate against employees who have a disease, with some companies going as far as to force such employees to resign, said Eric Liu (劉桓睿), vice president of TYPA, a Taipei-based organization serving hundreds of cancer patients.
There is no best work schedule for all companies to adopt for employees with diseases, Liu said, giving the example of a five-hour work day or a three-day work week.
This is because people with different illness, or people with the same disease but at different stages, might have distinct needs that their work schedule should account for.
"The decisions are completely case by case, but we hope that companies in Taiwan are at least willing to discuss with their employees and have an open mind," Liu said.
The partnership between Novartis and TYPA has been strategic and consistent, collaborating on corporate social responsibility projects since 2020. For example, the two organizations went to Hsin Kwang Elementary School in Hsinchu County to conduct a "dreamers" campaign, which taught about anti-pandemic measures that helped students facing illnesses gain courage and a positive attitude.
Since 2020, TYPA has also participated in the Alliance and Partnerships for Patient Innovation and Solutions Initiative, which is co-organized by Novartis and international patient groups, and brings together patient communities and key stakeholders including policymakers, taxpayers, physicians, academics and digital innovators to collaborate on key challenges and prioritize action toward better patient outcomes in the Asia-Pacific region, the Middle East and Africa.
Novartis and TYPA have also worked together to promote health education and raise awareness of diseases. For example, an app, "Blossom Notebook," was developed to help breast cancer patients navigate and track their treatment journeys.
The app is a practical care tool that can track data throughout the recovery from breast cancer, Liu said, adding that it not only can record the treatment journey, but it can also help mitigate the anxiety of patients and their family members.
Conducting responsible clinical trials helps represent underserved people. This can be done by supporting the RIGHT Choice study, which showed that the proportion of premenopausal and perimenopausal patients with breast cancer is 10 percent higher in Asia than the rest of the world, Milnes said.
Novartis plans to continue collaborating with patient groups to enhance disease awareness and create a better healthcare ecosystem to realize the organization's commitment to patients and caregivers, Milnes added.
Comments will be moderated. Keep comments relevant to the article. Remarks containing abusive and obscene language, personal attacks of any kind or promotion will be removed and the user banned. Final decision will be at the discretion of the Taipei Times.
Source link