CLARITY NEEDED:


China Steel and its units make up one-10th of Taiwan's emissions, but its reduction target is far lower than what the UN advises, environmentalists said
By Chen Chia-yi
and Liu Tzu-hsuan / Staff reporter, with staff writer
Less than 3 percent of listed companies in Taiwan have made a clear pledge to achieve carbon neutrality, the Green Citizens' Action Alliance said yesterday, urging the government to require companies to disclose their emissions data.
Companies should propose several phases to reduce their carbon emissions, as they are major emitters, the alliance and other environmental groups told a news conference in Taipei.
Data from the Environmental Protection Administration and companies' environment, social and governance (ESG) plans showed that only 47 of the 1,700 listed companies in Taiwan, or 2.64 percent, have promised to achieve carbon neutrality, alliance researcher Ko Chien-yung (柯乾庸) said.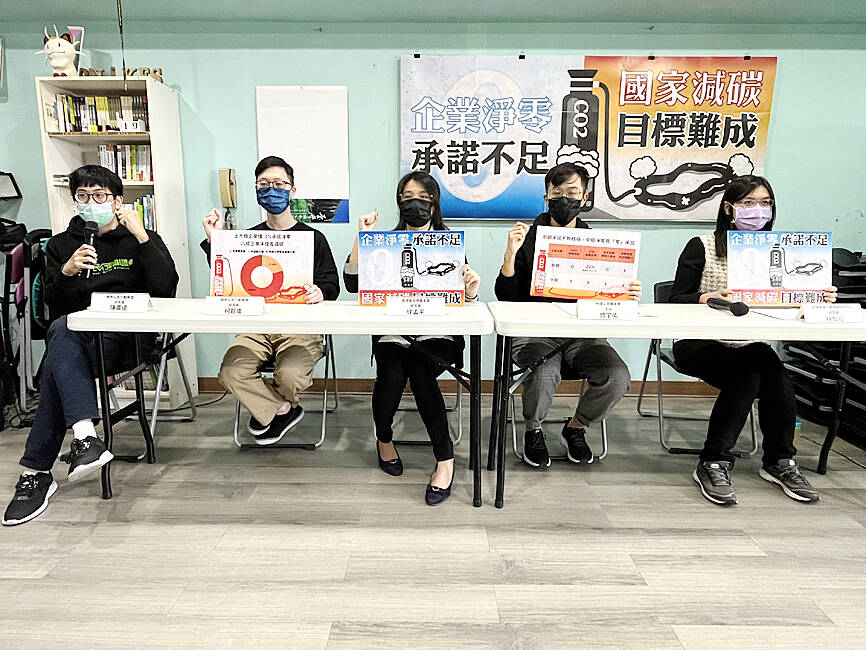 Photo: Chen Chia-yi, Taipei Times
By comparison, 40 percent of the top 2,000 public companies in the world have made such promises, he said.
Listed companies should undertake corporate social responsibility by completing inventories of their carbon emissions and putting forward plans to reach the government's goal of achieving net zero emissions by 2050, alliance researcher Chen Chen-yuan (陳震遠) said.
The government's target of achieving a 20 percent reduction of carbon emissions by 2030 should be increased, he said.
Information disclosure should be included in the 12 key strategies for achieving net zero carbon emissions by 2050 proposed by the National Development Council in March, he added.
Nine of the 20 biggest carbon emitters in Taiwan are petrochemical companies, Environmental Rights Foundation researcher Hsu Meng-ping (徐孟平) said.
To achieve the net zero goal, high emissions-producing industries such as petrochemical and steel must undergo structural changes, as the expansion of renewable energy generation and energy-saving measures has a limited effect, environmental groups said.
The international community has begun to advocate reducing the use of ethylene, a raw material used in the petrochemical industry, as well as the scale of the petrochemical industry, they said, adding that Taiwan should consider following suit.
China Steel Corp, the nation's largest steelmaker, and its subsidiaries account for one-10th of the total carbon emissions in Taiwan, Citizen of the Earth, Taiwan director Teng Yu-yu (鄧宇佑) said.
Although China Steel promised to pursue the net zero goal, it aims to reduce emissions by 22 percent from 2018 to 2030, far lower than the 43 percent target set by the UN, he said.
China Steel should demand that its subsidiary Dragon Steel Corp propose concrete goals to reduce emissions, he added.
It has become a global trend for companies to reveal their carbon emissions data, Taiwan Climate Action Network researcher Lin Yi-chun (林怡均) said.
For example, regulations in the Netherlands require buildings to disclose carbon emissions, while public procurement policies in the US require companies bidding for a contract to also disclose emissions information, she said.
Taiwan lacks similar policies and should discuss whether to adopt the same measures as other countries, she added.
Comments will be moderated. Keep comments relevant to the article. Remarks containing abusive and obscene language, personal attacks of any kind or promotion will be removed and the user banned. Final decision will be at the discretion of the Taipei Times.
Source link