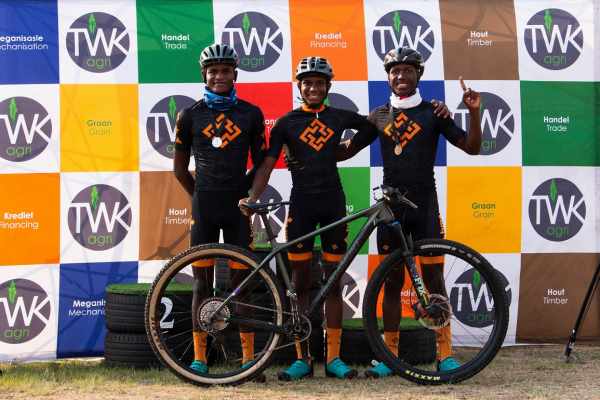 SOLWEZI, ZAMBIA – Kansanshi Mine's junior cycling team has started its two-week tour of South Africa with a successful weekend's racing in Mpumalanga.
 
Competing in an inter-provincial cup race that featured the top junior cyclists from Gauteng, Limpopo, and Mpumalanga, Kansanshi's Davies Kawemba came away with a dominant win in the under 19 category, ahead of team mate Ernest Mazabuka. In the under 16 category, Kansanshi's Gift Puteho finished a close second to South African rider Willie Willemse.
 
The Kansanshi Cycling Team is one of seven sports teams supported by First Quantum Minerals' Kansanshi Sports Foundation, an initiative under the mining company's corporate social responsibility department, co-sponsored by Titan Drilling and BME.
 
The cumulative goals of the various teams range from raising the level of elite sports in Zambia to improving the general health and fitness in local communities.
 
"It was fantastic to have the Zambian riders come here and challenge our top juniors," said Brad Shuttleworth, Mpumalanga Cycling chairperson. "Our top juniors have gone unchallenged in this series for the past few months. Today they got a bit of a shock, and they'll be motivated to get out and raise their game in the coming months."
 
Reflecting on his second-place finish, Gift Puteho said: "We all learned a bit from this weekend's experience. The racing in South Africa is a bit different from what we do at home in Solwezi and given a few more weeks to adapt, I'm sure we'll perform even better at the finals."
 
The win by Davies Kawemba was the first-ever win in a South African race for the Solwezi based team and formed an important milestone in the team's development.
 
"This was my first South African race, so I wasn't very sure what to expect," said Kawemba. "Now I know where I stand with the juniors, my next goal is to tackle the professional ranks."
 
The riders will now spend two weeks training and acclimatising to South African conditions at a cycling facility just outside Mbombela, Mpumalanga, before taking on the country's top junior riders in the national schools' finals at Mankele Bike Park, near Mbombela.
 
FQM sees sport as far more than simply competition noting that if it is well coordinated, sport could help youths develop a range of skills while also keeping them away from harmful vices.
 
The mining giant is of the view that securing a firm foundation for sports will not only lead to high performance but can also contribute to improved community health through physical activity, as well as teaching youths to lead healthy lifestyles early in their lives.
Source link